Updates for SY22-23 will be posted before the first day of school on August 29.
Safety is a product of the following things:
The public health conditions in our city. We rely on the expertise of the DC Department of Health, and the Mayor, to tell us if the public health indicators allow safe in-person school.
Whether we can staff our schools safely. For the foreseeable future, if your child's teacher must quarantine, there is a good chance that we will need to have your child learn virtually. There is a national shortage of substitute teachers, and it is likely that we will not be able to find coverage for all of the classrooms of teachers who must quarantine. We will communicate these decisions as soon as possible.
To access SY21-22 family resources, including the Family Handbook and sample student schedules, please visit our Resources page.
DC Prep Resources: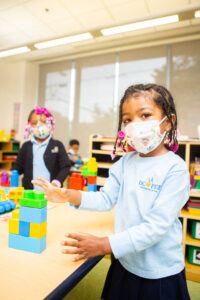 Safe Operations Plan: Please click here to view DC Prep's Safe Operations Plan. This plan will be updated regularly based on updated health and safety information, scientific research, and lessons learned from experiences in our schools.
Virtual Program: For those students who have a documented physical or medical condition that will prevent them from attending school in person for SY21-22, we will offer a fully virtual learning experience. Our virtual school will be led by Principal Kent Strader.
Note: Per guidance from OSSE, only those students with a documented physical or mental health condition that requires distance learning due to COVID-19 can participate in the virtual program. You can read more about OSSE's eligibility rules here. Medical waivers were due on July 26.
If you have any questions, please email distancelearning@dcprep.org.
Reminders
Tech Support: Please check your child's Chromebook to ensure it's working properly. If it is not working, please submit a ticket to https://distancelearning.dcprep.org/family-support. We will work with you to resolve the issue. We will send you information on how to log into virtual learning in a separate email.
Masks: Talk with your child about the importance of wearing a mask. We have ordered KN95 & KF94 masks for staff & students. We strongly encourage all students and staff to wear an N95, KN95, or KF94 mask. Your child will have access to these masks at school. We strongly recommend that you have your child utilize one of the masks we make available or a similar one (N95, KN95, KF94) of your own.
COVID-19 Vaccine Information
Vaccinations are available at no appointment needed walk-up sites for all DC residents.
Children 5 to 11 years old are now eligible to get vaccinated. The vaccine is safe and lowers the chance of children getting and spreading COVID-19. The vaccine is 90% effective at preventing symptoms of COVID-19. Children will receive a smaller dose of the Pfizer-BioNTech COVID-19 vaccine than adolescents and adults, approximately one-third the dose that people 12 and older get. Find a vaccination site for your 5 to 11-year-old.
For more information on available vaccines, go to vaccinefinder.org.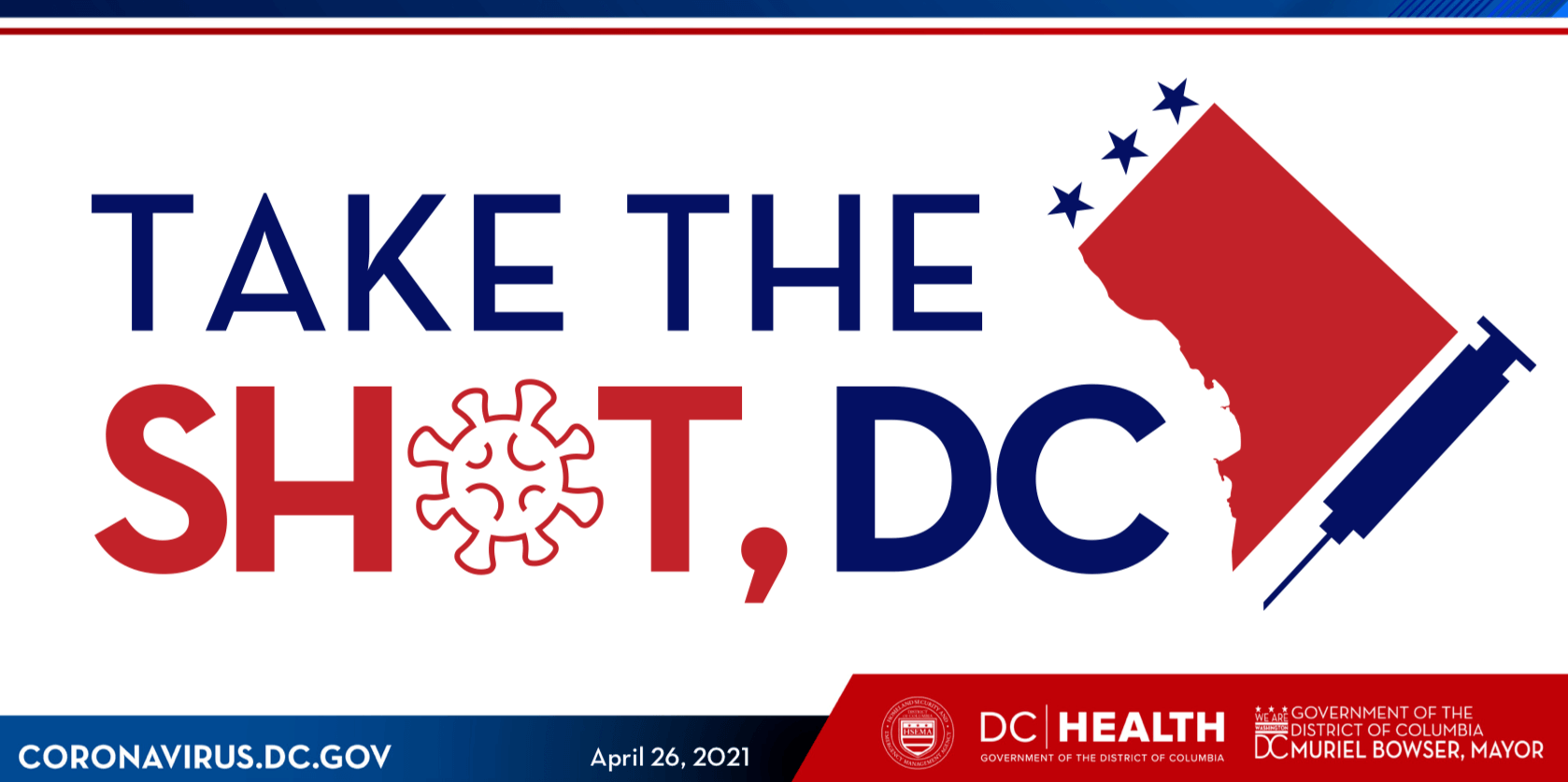 DC Prep Community Townhall
On July 13, 2022 we held a Community Town Hall meeting in partnership with Privia Health, who supports us with COVID-19 care coordination and general wellness support. During this Town Hall, we shared details about the strong health & safety measures we have in place to ensure the health of our community and we previewed the COVID protocols we plan to implement at the start of the 22-23 school year. We also discussed details about how to ensure compliance with city-wide immunization policies (No Shots, No Schools) that will be enforced this year.
Privia Health Partnership
DC Prep has partnered with Privia Health to provide our school community with 24/7 access to a dedicated care team, virtual care options, and more. Privia's team of nurses will begin contact tracing for our school as well as coordinating student and staff's safe return to the classroom.
If you have any questions, contact Privia for help understanding and navigating your care options by emailing careadvisors@priviahealth.com, or calling (866) 514-4049.
For more information, visit our joint website at myprivia.com/dcprep.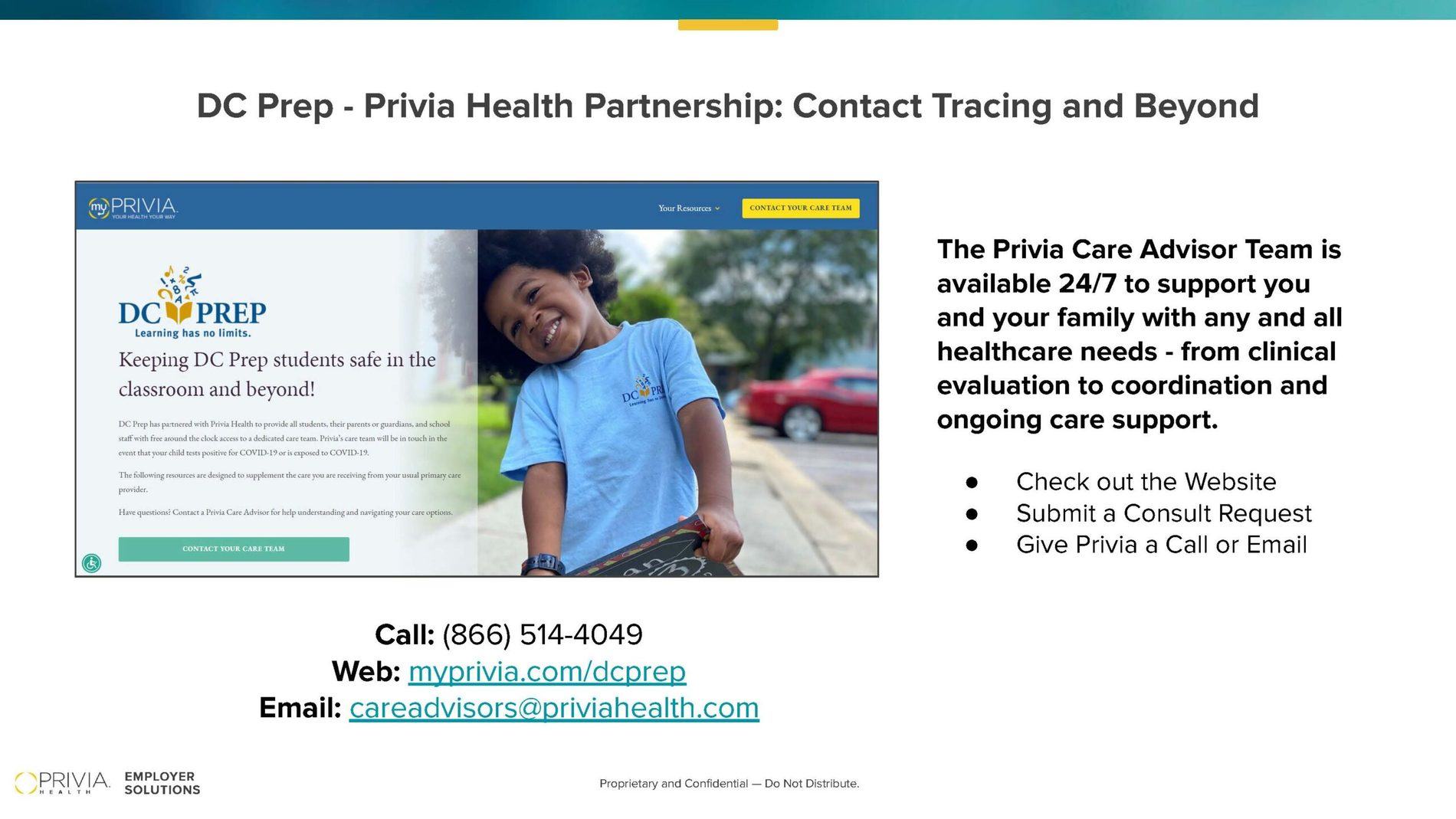 Privia Health Community Townhall
On December 14th, 2021 – Privia Health, DC Prep's COVID-19 response partners, held a virtual community townhall where our community could learn more about the partnership and care options available to our DC Prep community as we continue to navigate in-person learning this year, as well as the benefits of vaccination.
External Resources
Internet Support:
Families with PK3-12th grade student(s) enrolled at a DC traditional or charter public school may be eligible for for one year of free internet access. Text INTERNET to 69866 to find out if you're eligible. 
View this flyer for more information.
Mental Health Supports:
The Department of Behavioral Health has a 24 hour line for anyone who has mental health concerns for themselves or someone else (1-888-793-4357).
Free Mindfulness Resources via Calm – includes meditations, "Calm Kids", and sleep stories