Upcoming Programming:
Based on input from our families, we are reopening for in-person learning in SY21-22.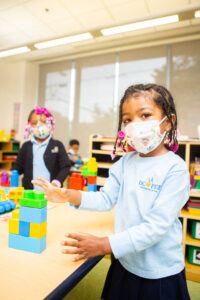 Safe Operations Plan: Please click here to view DC Prep's Safe Operations Plan. This plan will be updated regularly based on updated health and safety information, scientific research, and lessons learned from experiences in our schools.
Virtual Program: For those students who have a documented physical or medical condition that will prevent them from attending school in person next year, we will offer a fully virtual learning experience. Our virtual school will be led by Principal Kent Strader.
Note: Per guidance from OSSE, only those students with a documented physical or mental health condition that requires distance learning due to COVID-19 can participate in the virtual program. You can read more about OSSE's eligibility rules here. Medical waivers were due on July 26. If you have any questions, please email distancelearning@dcprep.org.
We are excited to welcome all students back for in-person learning 5 days a week on August 30th!
POP-UP VACCINE CLINIC ON WEDNESDAY, DECEMBER 15, 3:30-7:30 PM
In partnership with Mayor Bowser, Office of the Deputy Mayor for Education, and DC Health, DC Prep will be hosting a pop-up vaccine clinic for all children ages 5-11 on Wednesday, December 15, 3:30-7:30 pm at our Benning campus at 100 41st St NE. Food and hot beverages will be available onsite, and every child vaccinated onsite will receive a gift package. No appointments required – walkups only!
Children must be accompanied by a parent or a trusted party. If a child comes with a trusted party, the parent must have signed the consent form and the trusted party must have their ID.
For questions, please contact DC Prep's Chief of Staff, Barry Brinkley, at communications@dcprep.org or (202) 810-2746.