Step By Step Enrollment Process for SY2021-22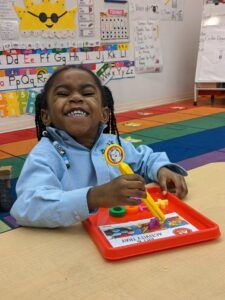 Waitlist Admissions: DC Prep will begin admitting students off of our waitlist beginning in mid-May and continuing throughout summer and fall as spaces become available. If you have not yet applied to DC Prep, please submit an application via MySchoolDC.
Step 1: Online Enrollment Form
• Submit the online enrollment form. You can access the enrollment form link and unique 'snapcode' emailed to you, and you are able to use your computer, tablet, or smartphone to electronically complete the form. If you do not have access to technology or are running into issues, call your campus-specific phone number and a DC Prep staff member will provide phone support. We urge you to complete this step ASAP so we know you are planning to send your child to DC Prep for SY21-22.
*Please note – If you need to change the language on the enrollment form, you can do so in the globe in the top right corner of the form once you click the link.
*Tenga en cuenta: Si necesita cambiar el idioma en el formulario de inscripción, puede hacerlo en el globo terráqueo en la esquina superior derecha del formulario una vez que haga clic en el enlace.

Step 2: Submit Your Proof of Residency – After you submit the online enrollment form, you will receive further guidance via email about how to complete this step.
• Electronic Submission: You can email your acceptable proof of residency documents (scan and email or photo and email) to your campus-specific email address. We have linked the full list of acceptable documents below – please pay attention to the expiration date or how recent the Office of the State Superintendent of Education expects your document to be. You must include your child(ren)'s name(s) in the subject line of the email. We will review your documents and confirm if they meet all of the OSSE requirements and notify you by email if you need to submit different or additional proof of residency.
Step 3: Sign the DC Residency Verification Form – After you submit valid proof of residency documents, you will receive further guidance via email about how to complete this step.
• Electronic Signature: After DC Prep has reviewed your electronic submission of your proof of residency and deem it acceptable, we will send you a DocuSign form requesting you sign. Note – this may take us up to a week to send you the completed document for your review and signature.
*Please monitor DC Prep's enrollment page and COVID-19 Updates and Resources page to stay up to date.