Newly Renovated Building for Anacostia Middle Campus Opening in Fall 2022
May 26, 2022
---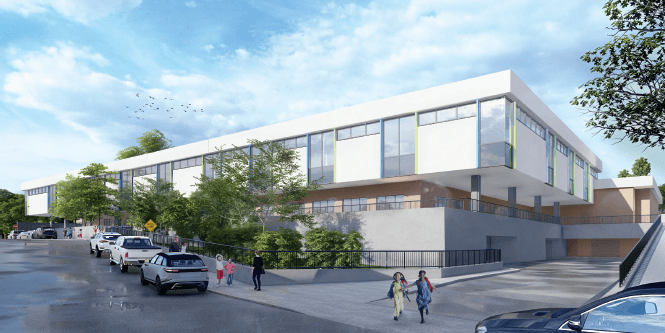 Have you heard? DC Prep's Anacostia Middle Campus has a permanent home!
DC Prep opened its sixth school, Anacostia Middle Campus (AMC), in the fall of 2020 in a temporary location at 2501 Martin Luther King Jr Avenue, SE. Starting in School Year 2022-23, AMC will be located at 2330 Pomeroy Road, SE. The former home of Wilkinson Elementary School, DC Prep's renovation will transform the Wilkinson building into a state-of-the-art school for the Anacostia community (in the coming years, Anacostia Elementary Campus will also move to this building so that the elementary and middle campuses will be co-located). DC Prep engaged Shinberg Levinas as architect for the renovation, with MCN Build as general contractor. This architect and contractor team completed the renovation of our Anacostia Elementary Campus at 1409 V Street, SE. 
In the summer of 2021, DC Prep obtained approval from the DC Council and Mayor to enter into a long-term lease for the Wilkinson building, thanks in large part to the advocacy of our families, our supporters, and members of the Fort Stanton Community. In December 2021, the Public Charter School Board approved AMC's move to the Wilkinson building. A hiring fair was held in Ward 8 in February 2022 to make sure local residents have a fair opportunity to be employed in the construction project. 
The Fort Stanton community is excited to welcome DC Prep into their neighborhood. Click here to take a virtual visit to Fort Stanton and hear from the president of the Fort Stanton Civic Association, the Advisory Neighborhood Commissioner, the project manager of the construction project, and DC Prep Board member and AMC parent, Temica Hunt. 
To view information on SY22-23 Enrollment for Anacostia Middle Campus, please click here.